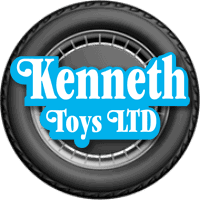 Welcome:
Hello and welcome to theknightrider.com! The home of Kenneth Toys LTD. Your new stop on the net to find 1:8 Scale upgrade parts for your Fanhome, Deagostini, and Altaya KITT builds. You've also found the official home of the 1:8 FLAG Semi Trailer project. Our site is best experienced on desktop.
Two new parts have entered the chat... 

Custom Hot Wheels and Hot Wheels Diorama's are on the way!
Check the blog for updates and availability!
COMING SOON

Check out some hand made custom products like Tumblers, Ink Pens,
Car Coasters, and other cool stuff made by my wife, Erika!
COMING SOON
THE REVIEWS ARE ROLLING IN...
Just to let you know that I've recieved my items and am blown away with the quality and just 5 days delivery to the UK. Keep up the good work already put another order in and will keep watching your site for future releases.
---
Kevin P. - United Kingdom
I received my order just now and to say I am blown away is an understatement! I can't thank you enough for these incredible upgrades and all the extras! You have done some great work printing and painting/detailing these parts!
---
I got few days ago my order from the new theknightrider.com I've been buying the mods, mainly the ones for KITT, from all different people our there, but I gotta tell you I was blown away by the quality and attention to detail.
---

October 28, 2023
Inventory Refresh Round #2 is now live on the website! Happy shopping, everyone. This will be the last sale until our first anniversary next year. Coupons will be made available around holidays for newsletter subscribers and customers.
October 23, 2023
October 8, 2023
Our first week since opening has concluded, and I want to express my deep gratitude for the overwhelming response and the trust you've placed in me to order parts for your projects. To all our visitors, I owe you all an apology—